Ventoy Menu Class Plugin
Ventoy use grub2's theme which has a class property in the menu. You can refer https://www.gnu.org/software/grub/manual/grub/grub.html for detail.
To be simply, you can define a class for the ISO files and show an icon in the boot menu. For example, you define a menu with class 'ubuntu' and put a ubuntu.png file in iconsdirectory under the theme directory. Then the icon can be shown in the menu as bellows: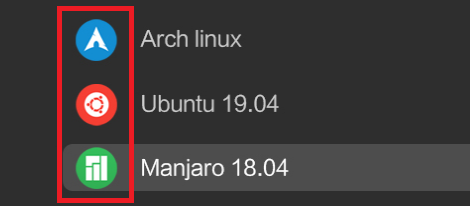 A menu_class array is defined to describe the configuration in /ventoy/ventoy.json. Both image file and directory are supported.
Use key to specify a substring of the image file name and dir to specify the full path of a directory.


{
    "menu_class": [
        {
            "key": "MX-",
            "class": "mx"
        },
        {
            "key": "ubuntu",
            "class": "ubuntu"
        },        
        {
            "key": "CentOS-7-",
            "class": "centos"
        },
        {
            "dir": "/ISO/Linux",
            "class": "linux"
        }
    ]
}

| Key | Type | Description |
| --- | --- | --- |
| key | STRING | The key string. Ventoy will do a substring match (case sensitive) with the ISO name and this key. If this key is a substring of the ISO name, then the ISO menu will use the class. Only name of the ISO file will be used for match (not the full path) |
| dir | STRING | The full path of a directory. Ventoy will do a full string match (case sensitive) and use the class if matched. |
| class | STRING | menu class string (max length: 128) |
The class has higher position with higher priority
The match for the key is something like strstr(iso_name, key)
If you have huge number of ISO files in USB and define a long menu_class array, it will take a little long time to load Ventoy's boot menu.
You need to set item_spacing item_padding item_icon_space and other variables in theme.txt for better display (Grub2 theme tutorial)
| Built-in Class | Description |
| --- | --- |
| vtoyret | All the return to previous menu will use this class |
| vtoydir | If none of the item in menu_calss match, Ventoy will use it as the default class for directory. |
| vtoyiso | If none of the item in menu_calss match, Ventoy will use it as the default class for ISO file. |
| vtoywim | If none of the item in menu_calss match, Ventoy will use it as the default class for WIM file. |
| vtoyimg | If none of the item in menu_calss match, Ventoy will use it as the default class for IMG file. |
| vtoyefi | If none of the item in menu_calss match, Ventoy will use it as the default class for EFI file. |
| vtoyvhd | If none of the item in menu_calss match, Ventoy will use it as the default class for VHD(x) file. |
| power_reboot | F2 Power --- Reboot |
| power_halt | F2 Power --- Halt |
| boot_windows | F4 Localboot --- Search and boot Windows |
| boot_g4d | F4 Localboot --- Search and boot Grub4dos |
| boot_disk | F4 Localboot --- Boot the 1st/2nd/3rd local disk |
| boot_uefi | F4 Localboot --- Search and boot BOOTX64.EFI |
| debug_resolution | F5 Tools --- Resolution Configuration |
| debug_videomode | F5 Tools --- Resolution Item (e.g. 1024x768x32) |
| debug_json | F5 Tools --- Check plugin json configuration (ventoy.json) |
| debug_control | F5 Tools --- Check global control plugin configuration |
| debug_theme | F5 Tools --- Check theme plugin configuration |
| debug_autoinstall | F5 Tools --- Check auto install plugin configuration |
| debug_persistence | F5 Tools --- Check persistence plugin configuration |
| debug_menualias | F5 Tools --- Check menu alias plugin configuration |
| debug_menuclass | F5 Tools --- Check menu class plugin configuration |
| debug_injection | F5 Tools --- Check injection plugin configuration |
| debug_automemdisk | F5 Tools --- Check auto memdisk plugin configuration |
| debug_util | F5 Tools --- Ventoy UEFI Utilities |